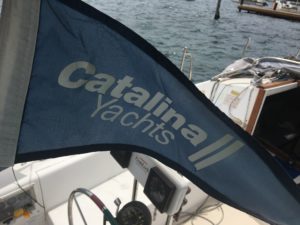 The 13th Annual Catalina Yacht Owners Rendezvous was held at LMYC Belmont, on beautiful Lake Macquarie.  The gathering kicked off on Friday afternoon with Catalina's turning up to dock at LMYC and enjoy happy hour along with the buffet BBQ by onsite caterer Crusoe's on the Lake.

Commodore of the Club and Catalina 36 owner, Bill Chaseling ("Windchaser"), welcomed the 14+ strong fleet at the Saturday morning briefing. We made a special welcome for the crew of "Cool Change" a Catalina 320 sailed down to the lake from her home port of Port Macquarie by her owner Teddy Clausen, and first mate Mick.

The helpful LMYC Race Committee and every other expert on site had no idea what the weather would bring, so a default plan of a motor sail around the course taking in the sights of Wangi, Swansea channel, Pulbah Island was put in place in the event the wind would have a day off.  However, Huey was on our side and delivered a gusty W/NW breeze for the start of the non-spinnaker Pulbah Passage Race.  The whole fleet managed a clean start with the tricky and testing breeze dying out at Wangi Point and turning into a nice light E/Southeaster which stayed in for the remainder of the day. A few (wind) holes on the course tested the skippers' abilities and caused some interesting light air racing and positional change throughout.